The tech world is constantly evolving, from new platforms and apps to new languages. But, when it comes to women, it has not changed that much. Although women have been involved in tech for decades, the numbers are still low. In Mexico, women in tech earn, on average, 74% of what men earned for the same position. (Laboratoria, 2020) While in the U.S. in 2021, women earned 94% of what men earned. (Zippia, 2020) However, at Octahedroid, we recognize the potential and value of women in tech, and we are committed to creating a more inclusive and diverse workplace.
We are proud of our female colleagues and the paths they have taken to achieve their goals in tech, and we want to share their stories with you. Starting with Rosa López, Front-End Developer who is by profession a biologist, but by practice a software engineer. She decided to switch to tech mainly due to financial issues and the recommendation of some of her friends to join the tech world at Laboratoria's Bootcamp, and so she did. But also, she was self-taught and studied in several learning platforms to complete her knowledge. However, she says she faced discrimination in other jobs, mainly because they judged her for not having a "complete background." Then the pandemic hit, and she was laid off from the company, and that was where her journey with Octahedroid began.
Octahedroid helped me regain the confidence I was missing, believe in my work, and gave me the tools I needed to improve myself. 
Samantha Correa, has a similar background, a Front-End Developer, who is also by profession a biologist, but by practice a software engineer. Her story begins with the pandemic she discovered the potential of this industry and decided to delve into it, combining her passion for technology and biology through education. Her goal was to grow professionally and, at the same time, support her family. Then, with her brother's help, who is a software engineer, and her ability to be self-taught, she started to dive into tech which made her realize that there was no limit to her anymore.
Still, she faced herself with, as she says, "one of her biggest challenges" regarding experience since she needed more to help more people. And so she decided to go out and look for that experience, but also made her goal to be part of a development team and know firsthand what it was like to work in the industry, and that's where she landed her job at Octahedroid. 
When I applied for Octahedroid, it was the best thing that could happen to me that day, today I feel that I am achieving all the goals that I am growing, and I am surrounded by amazing people who share the same values, and I hope to continue sharing more time with them.
Maripy Chávez's story as a QA tester began very differently. When she was 16 years old, due to life circumstances, she faced the need to get a job, starting in the informal sector. Later, when she was 28 years old and moved from Playa del Carmen to Mexico City, she began to see how difficult it was to get a job without a degree, especially during the pandemic. So it was until one of her friends introduced her to the tech world and how she could learn it from home in a self-taught way. Thanks to that, she created her first "Hello, World!" program and became passionate about programming, so she decided to study in an educational platform. 
But as she says, she "faced many challenges during that period," like the imposter syndrome, wondering if she was making the right decision. That's when she decided to create a Twitter account where she started to ask programming-related questions. As she kept asking, her account kept growing. And thanks to that, she was asked to go on a podcast and landed her job at Octahedroid as a Trainee Developer, and later on, she decided that QA testing was her way to go.
Thanks to Octahedroid, I got my first job in technology, and it helped me define my career path and goal and what branch of tech I want to be in.
Michelle Aguilar works in Octahedroid as QA tester and has a background in tech since she has a bachelor's degree in Industrial Information Systems and Technology Engineering. She decided to be in the tech world mainly because of the wide range of learning. However, despite her professional background, other jobs have limited her to administrative positions in heavy work environments. Something contrary to Octahedroid has helped her develop her skills and perform in what she studied.
In Octahedroid I have found that I am able to work with ease and have been given the space to excel in my role. The respectful communication and constructive feedback that I have received has created an atmosphere of openness, allowing me to work with even more enthusiasm.
Despite their different backgrounds, these women share a passion for tech, a drive to succeed, and a determination to overcome the imposter syndrome and other challenges such as the tech jargon and the adoption and adaptation of new tools. They are part of a community that encourages and uplifts them. These women, and so many others like them, are changing the face of tech. They prove that women have a place in this industry and that their unique perspectives and experiences are invaluable. But we still have a long way to go.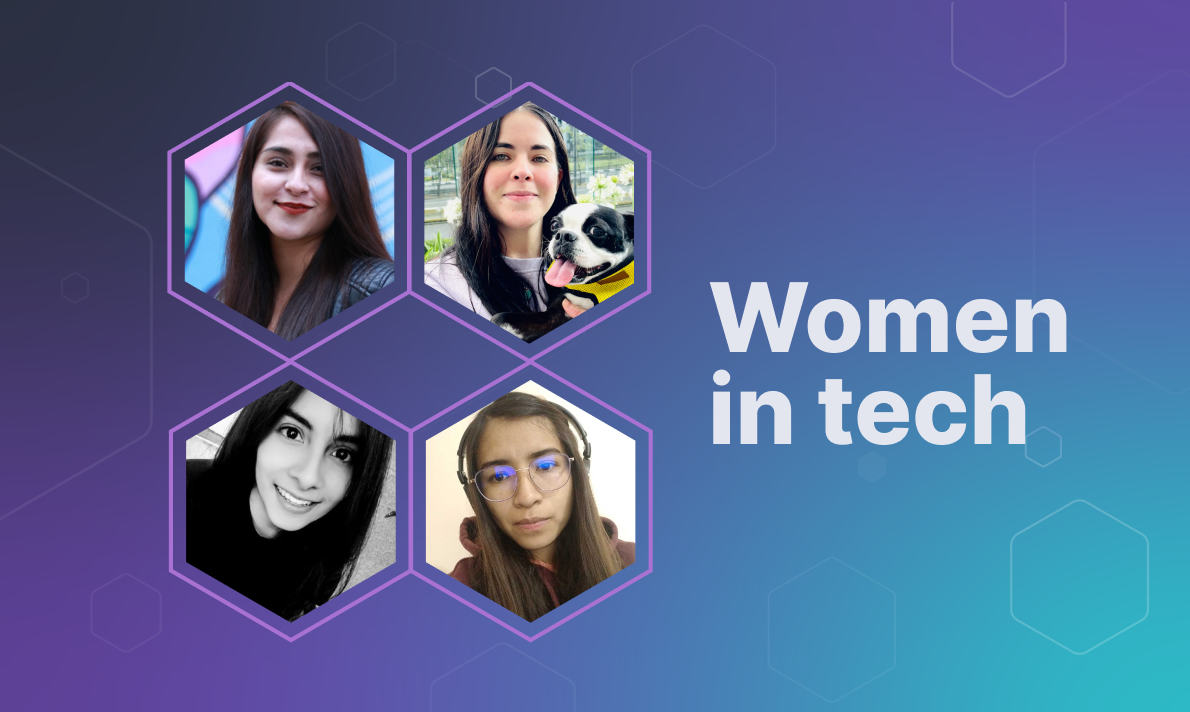 We reaffirmed our commitment to achieving gender equality in the tech industry by the fact that we've increased the number of women on our team by 35% since last year in roles such as the ones mentioned above but also in management, content strategy, and design. We continue actively seeking out and welcoming women candidates for all roles and believe we can create a stronger and more innovative industry by supporting and uplifting women in tech.